YKS TV Box, Super Smart Android 7.1 TV Box Ultra 4K HD Smart TV Player 3GB RAM 32GB ROM Top Boxes Support 3D HD TV Bluetooth 4.0 2.4G/5G Dual Band

Specifications:
Model: V9
Android OS: Android 7.1 OS
CPU: Amlogic S912 Octa core ARM Cortex-A53 CPU up to 2GHz (DVFS)
GPU: ARM Mali-T820MP3 GPU up to 750MHz (DVFS)
RAM: 3GB DDR3
Memory size: 32GB EMMC Flash (8-32GB optional)
WIFI: 2.4G/5G WIFI
Language: Chinese,English…Multi-Language support
Storage Extension: Support MicroSD(TF), Up to 32GB
Ethernet: Ethernet 100M
Bluetooth: BT4.0
HDMI: HDMI 2.0 up to [email protected]
Size: 92 x 89 x 20mm
Video Codecs:
VP9-10 Profile-2 up to [email protected]
H.265 HEVC [email protected] up to [email protected]
MPEG-4 [email protected] up to [email protected] (ISO-14496)
Supports JPEG thumbnail, scaling, rotation and transition effects
Supports *.mkv,*.wmv,*.mpg, *.mpeg, *.dat, *.avi, *.mov, *.iso, *.mp4, *.rm and *.jpg file "
Image browser : Support JPG、JPEG、BMP、GIF、PNG、JFIF…etc photo format
Software Extension: Support for Google Play & APK install
Protocol: Support DLNA,Miracast Protocol,Support DRM requirement.
Remote Control: Support Smart phone remote control、2.4GHZ wireless air mouse/Remote controller
IM Software: Support Skype/QQ/MSN/GTALK (Depends on APK install)
Offic Software: WORD/EXCEL/PDF(Depends on APK install)
Interface:
HDMI Out: 1XHDMI
SM© USB Port: 2XSM© USB host
SPDIF: 1XSPDIF
AV: 1XAV
Card Readere: 1X Micro Secure Dgital card (TF card) reader
Network: 1xRJ45 LAN Port
Power Supply: 1x5V2.5A DC
Package includes:
1 x V9 Android TV Box
1 x Power Adapter (5V 2A )
1 x Remote Control
1 x User Manual
1 x HDMI Cable
TV Box Android 7.1 OS, Amlogic S912 Octa core ARM Cortex-A53 CPU up to 2GHz. To meet the needs of different users, games, film and television, monitor, etc and especially you want to for AirPlay and for YouTube.
4K Resolution & H.265 Decoding: Not a single detail will be missing while your movie and games are in 4K ultra HD. Powerful H.265 hardware decoding can save 50% bandwith resources,bring your photos, videos and games to life in stunning clear and true-to-life color.
3GB RAM 32GB ROM: Matched RAM&ROM for combining CPU/GPU together performance the best running speed for Networking TV, games & 4k/2k movies. 32GB EMMC Flash, also supports Micro Secure Digital(TF), Up to 32GB. You can add any apks or apps into this tv box.
V9 TV BOX android supporting downloading the apps online from for Google Play Store, to watch videos, play games, enjoy music, and so on, supporting various languages, such as English, French, German, Spanish, Italian, and so on, allowing you to choose based on preference.
Plug and Play: V9 Android BOX has HDMI and AV out port.Install in less than 1 minute, all you need is to connect HD output with your TV, and the Ethernet / Wi-Fi, turn on your box and TV and enjoy it.
Discounted: Home Cinema Sale Category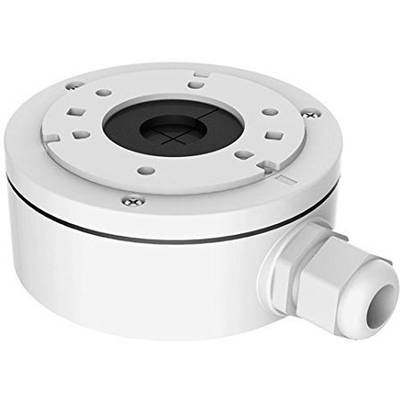 Works with EZVIZ cameras C2 C/C3S/Husky Air · Double interface on the side and at the bottom.This text is machine translated. More Info: - EAN: 6954273625825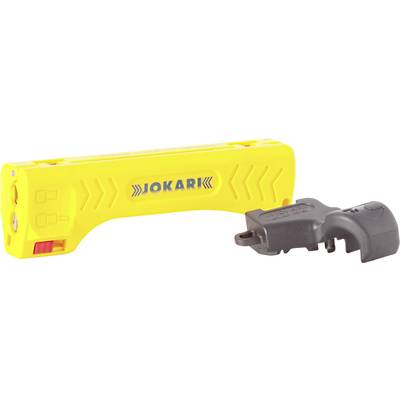 Stripping tool for all common coaxial cables, for example, TV coaxial, RG 58/U/RG59U, RG6, PVC flex 3 x 0.75 mm². With built-in socket wrench SW 11 mm made of high-rigid, glass-fiber reinforced plastic for tightening of F-plugs (HEX 11). Stamped length scale of 5 to 20 mm, stripping length unlimited. TIN-coated blades More Info: - EAN: 4011391301108
Adjustment at the touch of a button directly on the workpiece. Fine adjustment: for optimum adaptation to different sized workpieces and a comfortable grip. Self-locking on pipes and nuts: no slipping on the workpiece, low handforce required Gripping surfaces with special hardened teeth, teeth hardness approx. 61 HRC: low wear and very stable gripping Box-joint design: high stability because of double guide Secure locking of hinge bolt: no unintentional adjustment Pinch protection prevents injury to the fingers Chromium-vanadium electric-steel, forged, oil-hardened. Pliers with Eyelet for attaching a fall protection. More Info: - EAN: 4003773080169
Adjustment at the touch of a button directly on the workpiece. Fine adjustment: for optimum adaptation to different sized workpieces and a comfortable grip. Self-locking on pipes and nuts: no slipping on the workpiece, low handforce required Gripping surfaces with special hardened teeth, teeth hardness approx. 61 HRC: low wear and very stable gripping Box-joint design: high stability because of double guide Secure locking of hinge bolt: no unintentional adjustment Pinch protection prevents injury to the fingers Chromium-vanadium electric-steel, forged, oil-hardened. Pliers with Eyelet for attaching a fall protection. More Info: - EAN: 4003773080152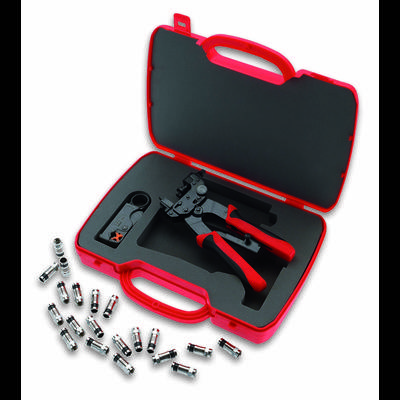 Tool kit F-compression plug to produce waterproof and thus Weatherproof coaxial connections, in particular for cable and satellite TV systems. For high mechanical load and excellent shielding. The set consists of: - Professional crimping tool for compression plug connectors especially for RG59 and RG6 coaxial cable. Thanks to the easily adjustable length stop suitable for pressing the compression plugs of different lengths and types (F-, BNC- and RCA-plugs). Also suitable for angle plugs and keystones. Very low application of force by hand while crimping. With ergonomic two-component grip covers, length 195 mm. Coaxial cable stripping tool for quick and precise stripping and stripping of coaxial cable (RG 58, RG 59, RG 62, RG6, RG9, etc.) in a single operation. With three changeable blades, cutting depth and cut distance can be set. 20 Piece F-compression plug, two times the protection against moisture entry by external sleeve and an inner O-Ring, excellent shielding and mechanical strength cable connection. Gold coated, for RG6 coaxial cable. More Info: - EAN: 4021103061541
2 Responses to YKS TV Box, Super Smart Android 7.1 TV Box Ultra 4K HD Smart TV Player 3GB RAM 32GB ROM Top Boxes Support 3D HD TV Bluetooth 4.0 2.4G/5G Dual Band