2018 Nissan Leaf EV first drive review
Nissan hopes to be first in selling a BEV in Thailand late next year. Can the new Leaf be any compelling?
Ever since the Nissan Leaf was launched in 2010, a total of 280,000 units were sold worldwide making it the best-selling battery electric vehicle. Well, which isn't surprising because the Leaf was actually the only car of its kind back then.
Today, more BEVs from other brands have joined the mass-market scene including the Chevrolet Bolt, Hyundai Ioniq and Renault Zoe, as such. Thus, the success story of BEVs, even if not extraordinary, has led Nissan in unveiling the second-generation Leaf in Japan recently before rolling out it into global markets by next year. And here are some good news.
As the Leaf's new rivals are being represented by brands in Thailand that are either weak or non-existent, Nissan has found it the right opportunity to start selling its latest BEV on an official basis in late 2018.
New Leaf could cost just under 1.5 million baht. Sure, the Thai government wants to lure makers in building BEVs, as well as semi-electric versions tagged as HEVs (hybrid) and PHEVs (plug-in hybrid). But as the BEV is a completely new thing to Thais, it needs familiarisation before being able to go into large scale production in the country.
That's why makers who will commit themselves to BEV assembly will be able to initially import such cars with exemption in import duties. So, if a nicely equipped Leaf goes for just under four million yen in Japan, Thai punters can expect to pay around 1.5 million baht for it or maybe less with more basic features. Considering its C-segment dimensions, it's quite a tall order for the Leaf because that price level is the playground of mid-size family cars like the Teana.
But from another angle, new technology initially comes at a price, explaining why Toyota's Thai-built Prius once sold for some 1.3 million baht in now-defunct, third-gen form. It might be a little too early to deliver a definite verdict for the new Leaf after driving it for the first time in Japan late last month. But there are many things to like about it if you've managed to clear yourself from some hurdles in owning a BEV.
The first one naturally is price. Forking out 1.5 million baht for the Leaf can get you bigger saloons, as said earlier, and even generously sized SUVs of several types. That said, you probably need to be an early adopter of new technologies to accept the Leaf for what it is.
As ever, charging point is on the front.
The second one is driving range. As you may have already noticed in the sidebar regarding the Leaf's technical highlights, the touring distance has doubled to 400km thanks to a higher density lithium-ion battery pack. Sure, constant use of air-conditioning and unpredictable traffic conditions in Thailand will certainly drain more energy.
However, half that claimed distance should most likely cover the needs of urbanites who merely require charging at home and needn't rely on a government-invested charging grid. Ah, infrastructure, the third point BEV users are highly like to ponder about. For those who want to substitute their weekend family cars with a BEV might as well just forget it for the Thai being.
That's because there really isn't one in place covering the whole of Thailand. Which is why the Leaf won't sell in large numbers yet and would probably end up being a second or third car in your garage. Does it drive well?
Having driven the first-gen Leaf on Thai roads and the new one in the city of Yokohama, it's safe to say that there are improvements but not a massive scale (aside that critical claimed enhancement in driving range). Let's start with the looks. From what used to be a frumpy-looking car from the onset, the Leaf has now transformed itself on the catwalk with more balanced proportions and playful exterior colours.
Yes, the new Leaf should be able to attract a wider audience. Then there's the interior design which doesn't look space-age anymore and tends to come in line with other Nissan's currently on sale. There might be two ways of perceiving this.
One is that the new Leaf's tidier dashboard may help keep people who have been converted to BEVs familiar with how the way things work. The other is that the new Leaf won't feel unique or sci-fi anymore. Maybe the pioneering Leaf was ahead of its time or Nissan found it necessary to put more common parts shared with other conventionally powered models in the new Leaf (the steering wheel being one example).
Even so, it's still quite a nice place if you don't expect the Leaf to have a premium feeling of luxury cars. While the version with leather seats certainly looks pleasing on the eyes, it lacks the cushiness of the cloth variation. But we can already see the average Thai preferring the former in a car costing this much.
Boot isn't flat when rear seats fold down.
Despite sitting on a generous wheelbase length, the Leaf isn't exactly a roomy car when compared to other C-segment hatchbacks. Blimey, even the smaller B-segment Note has more rear legroom. And because Nissan finds it necessary to install a tunnel in the centre of the cabin to house various electrical harness, it doesn't feel airy in the back.
Rounding off the practicality assessment is a low boot that isn't flat when the highly-placed rear seats are folded down. Packaging-wise, the Leaf isn't a marvel yet. Dynamically speaking, the Leaf isn't perfect, either, if better than before.
The steering wheel still turns quite casually and the ride can be lumpy over rutted roads. But the ride on highways is nicely controlled and generally quiet. Nissan engineers say there will be four different set-ups depending on region: Japan, Asia, Europe and North America.
There's a possibility that the Leaf may have more ground clearance and a softer damping to cope with Thai roads which is quite understandable. But whether a quicker steering as the Europeans are getting (and a firmer ride which seems unnecessary in this part of the world) would be featured is something only driving enthusiasts would yearn for. Yes, the Japanese version doesn't provide for any driving fun but that would possibly be missing the point in a BEV aimed at the masses.
But the all-electric performance, as in any other BEV, is cool. Although the rather controlled driving conditions didn't really permit us to discover the Leaf's true performance potential, acceleration is instantaneous, mid-range remains responsive and the overall experience is smooth and quiet.
e-pedal button is ideal for one-pedal driving. A particularly new feature is the so-called e-pedal operation.
Switch it on via a button ahead of the gear knob and you can drive with just your right foot. Press the throttle to go and lift off for braking. The car will come to an automatic stop even on gradients.
Some may find the deceleration rate – which you can't adjust – to sometimes be a little forceful. But generally speaking, e-pedal works well and is a good substitute for conventional deceleration because the brake pedal has such a wooden feel – similarly as in the previous Leaf. There are two other driver-assist functions the new Leaf is trying to holler.
One is the automatic cruise control and lane-keeping function on single-lane highways referred to as Level 2 autonomous driving. In fact, this can already been found in the Japanese-spec Serena MPV. The other one is more novel has to do with automated parking whereby the Leaf can perform parallel parking, backing or forwarding into parking spaces.
While certainly useful and here to stay for the future, it works so slow that you might be able to finish a fag before the whole process is done. It would be nice if it worked faster because you really don't want to keep up others in parking areas. Generally speaking, though, the Leaf has moved the BEV game forward, just that some fine-tuning is needed, be it about those driver-assist functions or the driving characteristics themselves.
If we had to pick the best bits of the new Leaf, it would be no other than its electrified performance, enhanced driving range and e-pedal operation.
Let's just hope that other factors, which brands of other BEV models must also face, can be sorted by both the state and private sector simultaneously (no BEVs for sale means no infrastructure).
As a Nissan executive rightly said, let's not make it a chicken or egg came first dilemma.
Driving cockpit doesn't feel space-age anymore and comes closer to other Nissans currently on sale.
The new Leaf drives better than before, if still with some dynamic foibles.
This striking Magical Fairy Costume comes complete with green dress with leaf detailing and mesh neckline. Of course no fairy costume would be complete without the included wings! More Info:
Our Forest Fairy costume includes a beautiful green dress with ivy leaves trailing across the top and leaf-shaped organza overlays on the skirt. Green felt wings and a pretty green headband complete the look. A lovely addition to your dressing up box, this costume can be worn time and time again. Shoes not included. More Info:
High-value micro-ATX H81 motherboard with Intel® LAN four SM© USB 30 ports and easy-to-use UEFI BIOS- New UEFI BIOS and EZ Mode Friendlier easier and more intuitive with helpful info added- GPU Boost - Go to the limit with iGPU level up!- CrashFree BIOS 3 Restore corrupted BIOS data from SM© USB storage- EPU - All-round energy efficiency and detailed CPU wattage settings- AI Suite 3 One-stop access to innovative ASUS featuresNew UEFI BIOSNew UEFI BIOS – friendlier and more intuitiveExclusive EZ Mode adds useful info to become even easierMedia-renowned UEFI BIOS from ASUS provides the smoothest mouse-controlled graphical BIOS and now features more intuitive functions to quickly take you to favorite BIOS pages and frequently-accessed settings through custom shortcuts You can even write quick notes in-BIOS for future reference view an activity log of setting changes and modifications and rename SATA ports EZ Mode has a whole new look upgraded with extra-friendly capabilities like detailed fan controls XMP profile settings SATA information and fast clock adjustment Together these perfect your BIOS experience Performance OptimizationGPU BoostGo to the limit with iGPU level up!GPU Boost accelerates the integrated GPU for extreme graphics performance The user-friendly interface facilitates flexible frequency adjustments It easily delivers stable system-wide upgrades for every use SM© USB 30 integrationDouble SM© USB access double the convenienceASUS facilitates SM© USB 30 accessibility for rear panel Experience the latest plug n play connectivity at speeds up to 10 times faster than SM© USB 20 Our motherboards afford greater convenience with high speed connectivity SATA 60 GbsTwice the speedASUS provides SATA 60 Gbs ports with enhanced scalability faster data retrieval and double the bandwidth of SATA 3Gbs EZ DIYQ-SlotEffortless PCI Express component removalPress the Q-Slot clip lightly and graphics cards just pop out The large winged clip is easy to reach so you don't have to struggle with installing or removing even the biggest graphics cards Windows 8 Exclusive FeaturesASUS Boot SettingMultiple startup optionsThanks to ASUS Windows 8 hardware optimization ASUS Boot Setting provides better flexibility in customizing your PC's startup process You can shorten system boot-up time to 2-seconds for a smoother user experience under Windows 8 and even previous versions of Windows Also you can enter the BIOS directly with one click through a user-friendly interface and quickly select your preferred system boot up method either get to the OS in seconds or opt for regular boot up Whatever your choice settings are saved and persistent with no need to choose every time you power on Probe II SenseHandy system monitoringPopular ASUS real-time system monitoring software now available for Windows 8 It helps you supervise your entire PC through a live tile on the Windows 8 start screen and make quick adjustments Probe II Sense is a free app available from the Windows Store Additional FeaturesAI Suite 3One-stop access to innovative ASUS featuresASUS AI Suite 3 offers a brand new user experience through a clearer and more attractive interface with support for larger monitors It consolidates all exclusive ASUS features into one simple-to-use package allowing you to supervise overclocking energy consumption fan speeds voltages and more This all-in-one app offers diverse and easy to use functionality with no need to switch back and forth between different utilities EPUAll-round energy efficiency and detailed CPU wattage settingsTap into the world&39;s first real-time PC power saving chip through the AI Suite 3 utility Get total system-wide energy optimization by automatically detecting current PC loadings and intelligently moderating power consumption It can directly reduce CPU wattage to an indicated level on demand and manually switch to Max Power Saving Mode for further energy savings creating a more efficient PC Fan XpertDedicated CPU and case fan controlsASUS Fan Xpert intelligently allows you to adjust CPU and case fan speeds according to different ambient temperatures in diverse climate conditions and locations as well as actual PC loading Various preset fan performance profiles offer flexible fan speed controls to achieve a quiet and cool environment CrashFree BIOS 3Restore corrupted BIOS data from SM© USB storageASUS CrashFree BIOS 3 allows users to restore corrupted BIOS data from a SM© USB flash drive or support CD containing a BIOS file This utility saves you the cost and hassle of buying a replacement BIOS chip EZ Flash 2Easy BIOS updates from SM© USB outside the OSQuickly update your BIOS from a SM© USB flash drive before entering the OS It only takes a few clicks with no floppy disk or an OS-based flash utility 4K Ultra HD ReadyDiscover future visual experiencesFollowing up on popular 1080p full HD 4K Ultra HD is the next big thing and you're ready for the upgrade thanks to integrated graphics that natively support up to 4096 x 2160 via HDMI or DisplayPort That's four times the pixel count of 1080p (1920 x 1080) offering incredible visual clarity detail and realism CPU and Chipset FeaturesIntel® LGA1150 4th Generation Core™ i7Core™ i5Core™ i3Pentium®Celeron® Processors ReadyThis motherboard supports Intel® 4th generation Core™ i7i5i3Pentium®Celeron® processors in the LGA1150 package with iGPU memory and PCI Express controllers integrated to support onboard graphics output with dedicated chipsets 2-channel (2 DIMM) DDR3 memory and 16 PCI Express lanes This provides great graphics performance Intel® 4th generation Core™ i7i5i3Pentium®Celeron® processors are among the most powerful and energy efficient CPUs in the world Intel® H81 Express ChipsetThe Intel® H81 Express chipset is a single-chipset design that supports socket LGA1150 4th generation Intel® Core™ i7i5i3Pentium®Celeron® processors It provides improved performance by utilizing serial point-to-point links allowing increased bandwidth and stability It natively supports up to two SM© USB 30 ports for up to ten times faster transfer rates than SM© USB 20 Moreover the Intel® H81 Express chipset also supports iGPU functionality letting users enjoy the latest Intel integrated graphics performance GreenASUSMotherboards are EU Energy-related Products (ErP) ready which requires products meet high efficiency standards with regards to energy consumption This is in line with the ASUS vision of creating environmentally-friendly and energy-efficient products through design and innovation that reduce the carbon footprint of products and thus mitigate ecological impact MemoryNumber of memory slots 2Memory slots type DIMMSupported memory types DDR3-SDRAMMemory channels DualNon-ECC YesSupported memory clock speeds 106613331600 MHzMaximum internal memory 16 GBUnbuffered memory YesProcessorCompatible processor series Celeron Core i3 Core i5 Core i7 PentiumProcessor socket Socket H3 (LGA 1150)Processor family IntelInternal IOSM© USB 20 connectors 2SM© USB 30 (31 Gen 1) connectors 1Supported hard disk drive interfaces Serial ATA II Serial ATA IIITPM connector YesNumber of SATA III connectors 2Number of SATA II connectors 2Number of EATX power connectors 1Number of COM connectors 1Number of chassis fan connectors 1CPU fan connector YesChassis intrusion connector YesATX Power connector (24-pin) YesBack panel IO portsSM© USB 30 (31 Gen 1) Type-A ports quantity 2SM© USB 20 ports quantity 2VGA (D-Sub) ports quantity 1PS2 ports quantity 2Microphone in YesHeadphone outputs 1HDMI ports quantity 1Ethernet LAN (RJ-45) ports 1DVI-D ports quantity 1Technical detailsMotherboard chipset family IntelMotherboard chipset Intel H81Supported hard disk drive interfaces Serial ATA II Serial ATA IIITrusted Platform Module (TPM) YesMotherboard form factor Micro ATXComponent for PCAudioAudio system HDNetworkingEthernet LAN YesLAN controller Intel I218VEthernet interface type GigabitPerformanceIntel Extreme Memory Profile (XMP) YesWindows operating systems supported Windows 10 Education Windows 10 Education x64 Windows 10 Enterprise Windows 10 Enterprise x64 Windows 10 Home x64 Windows 10 Pro Windows 10 Pro x64 Windows 7 Enterprise Windows 7 Enterprise x64 Windows 7 Home Basic Windows 7 Home Basic x64 Windows 7 Home Premium Windows 7 Home Premium x64 Windows 7 Professional Windows 7 Professional x64 Windows 7 Starter Windows 7 Starter x64 Windows 7 Ultimate Windows 7 Ultimate x64 Windows 8 Windows 8 Enterprise Windows 8 Enterprise x64 Windows 8 Pro Windows 8 Pro x64 Windows 8 x64 Windows 81 Windows 81 Enterprise Windows 81 Enterprise x64 Windows 81 Pro Windows 81 Pro x64 Windows 81 x64Motherboard chipset family IntelMotherboard chipset Intel H81Trusted Platform Module (TPM) YesAudio system HDMotherboard form factor Micro ATXComponent for PCGraphicsMaximum graphics adapter memory 1024 MBMaximum resolution 4096 x 2160 pixelsExpansion slotsPCI Express x1 (Gen 2x) slots 2PCI Express x16 (Gen 2x) slots 1BIOSBIOS type UEFI AMIBIOS memory size 64 MBACPI version 20aVideoMaximum graphics adapter memory 1024 MBMaximum resolution 4096 x 2160 pixelsSoftwareWindows operating systems supported Windows 10 Education Windows 10 Education x64 Windows 10 Enterprise Windows 10 Enterprise x64 Windows 10 Home x64 Windows 10 Pro Windows 10 Pro x64 Windows 7 Enterprise Windows 7 Enterprise x64 Windows 7 Home Basic Windows 7 Home Basic x64 Windows 7 Home Premium Windows 7 Home Premium x64 Windows 7 Professional Windows 7 Professional x64 Windows 7 Starter Windows 7 Starter x64 Windows 7 Ultimate Windows 7 Ultimate x64 Windows 8 Windows 8 Enterprise Windows 8 Enterprise x64 Windows 8 Pro Windows 8 Pro x64 Windows 8 x64 Windows 81 Windows 81 Enterprise Windows 81 Enterprise x64 Windows 81 Pro Windows 81 Pro x64 Windows 81 x64Drivers included YesWeight & dimensionsWidth 226 cmDepth 174 cmPackaging contentDrivers included YesCables included SATA More Info: - EAN: 4716659985266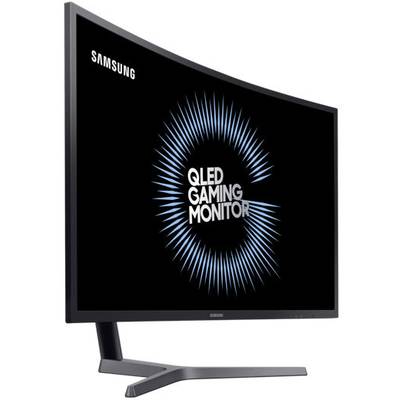 The reality in impressive detailsEnrich your gaming PC to our ultimate visual gaming experience - the world's first QLED Gaming monitor, an innovative mix of HDR and Samsung's new Metal Quantum Dot-Technologie.Impressive colorsQuantum Dot Color vibrationsThrough the Quantum Dot-Technologie has Samsung's curved Gaming monitor via approx. 125% RGB color output. The colors are becoming more varied, rich, clear and closer to reality than ever with a Samsung monitor before, to give you a games experience to deliver, which is almost real feeling.Deep blacks, bright whiteHigh Dynamic RangeThe CHG 70 QLED Gaming monitor is the first of its kind, with the support of HDR and a incredibly large range of brightness levels. It renders darker areas incredibly dark and bright areas incredibly bright, so images with high detail, just as it was intended by the game developers.Razor-sharp and super-fastA response time of 1 ms (MPRT)By a mixture of the progressive "Motion Blur-Reduktions Technology" with the VA-panel, which is technically up-to-date, Samsung this curved monitor with a super fast 1ms response time) created MPRT (motion picture. In this way, you can experience an impressive games performance over the entire screen.Overwhelming details from a great viewWQHD resolutionWith a 1.7-times higher pixel density than Full HD, the CHG 70 game scenes and characters in enchanting details. In addition, you get a broad view of the battlefield; so you can connect your enemy, no matter from which corner he crept determined to discover.Bent to the spell to pull1800 R-curvatureDeveloped to your daily gaming needs to breast-feed. The CHG 70 has a 1800 R-curvature, which gives you the feeling, to be drawn in the game, just like with a film in the cinema.For an uninterrupted gaming experienceImage refresh rate of 144 HzThe amazingly fast image refresh rate of 144 Hz compared to panels with 120 Hz image delays and motion blur when playing video games to give you a smooth gaming experience. The user-friendly setting of 60 Hz/120 Hz allows you to optimize your screen performance directly on the screen, without each time the menu visit.Light for your games experienceArena LightingThe Arena lighting function of the CHG 70, mounted on the back of the monitor, the gaming thrill. It is during your games session a bit louder, the lights briefly shine brighter and reinforce the moments of highest intensity.You can feel an impressive gaming experienceOSD DashboardWith Samsung's OSD dashboard for gamers, you now have your most important game settings in the view. You can even use keyboard shortcuts, the settings you wish to adjust. Align the Good Design Award Winner and place immediately to play.Direct hit for every game genreSeveral game modesThe game display modes of the CHG 70 Series fit instantly black gamma levels, contrast ratios, sharpness and color value settings at the different game genres - FPS, RTS, RPG or aos. The displays were developed in collaboration with the Samsung Galaxy Team, the semi-final winners of the LOL Championship 2016.Control the game through bundled luminosity.3000:1 contrast ratioSamsung's advanced VA panel technology enables a low light escape over the entire screen. In addition, it provides a contrast ratio of 3000:1 and ensures the power peak of the market. The contrast ratio ensures deep blacks and bright white, even in the darkest and lightest scenes.Black EqualizerThe 20-level Black Equalizer of the CHG 70 adjusts the brightness in dark areas and your needs, so that you can discover any enemy - even in the darkest angles of your game world.Precise, clear positioningDual hinge stand More Info: - EAN: 8806088693620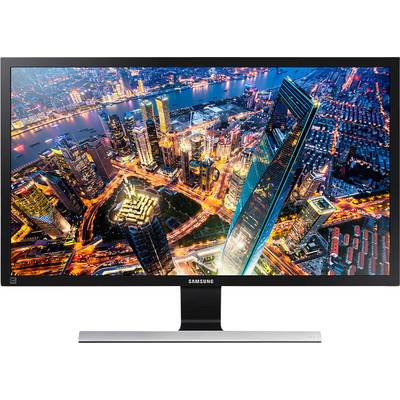 Discover the details of unbelievably realistic UHD qualityThe Samsung UHD Monitor UE590 allows working on the PC, games and much more in unbelievable Ultra HD image quality. First class images with breathtaking 8 million pixels in a resolution that is four times higher than Full HD. Experience your 4K content as it should look like, with realistic details to help with the feeling, to be in the middle of it. Learn a new level of clarity in ultra-high definition.Bring your entertainment to a new level in terms of experience and comfort- AMD free sync: synchronizes the screen refresh rate dynamically with the frame rate your content to input to minimize latency and stutter and delays while playing games and video playback dramatically reduced.- Updated HDMI support: with an updated HDMI™, the UHD resolutions at a refresh rate of 60 Hz support, 4K content smoothly and without delay played, even if the connection via the AV devices. Game Mode: Customize your screen settings for an optimized gaming experience very quickly on the screen. The game mode brightens dark images on, so that you have the experience action closely- Fast response time of 1 ms: Follow even the fastest movement on the screen without motion blur and jerking or ghost images.You can experience an unbeatable image quality with knife sharpener resolution and a billion colors.- 1 billion colors: with 64 times more colors than conventional screens are the images so detailed, accurate and, of course, that you take your breath away.- The highest brightness level: a lively and radiant clear with the highest level of brightness of 370 cd/m², so that you can see every detail.Demanding Design in matt black and T-shaped stand in metal optics- Demanding Design: with its sophisticated design and sophisticated design is the UE590 is much more than a screen that looks great - it was carefully designed so that you can concentrate fully on your viewing experience. The screen presents itself in a chic matte black and is run by a small aperture with metal rim housed and by a T-shaped stand in suitable metallic look.VESA support: with support for VESA 75 x 75 is an easy wall mounting possible.Tilt function: incline the screen for a pleasant viewing experience simply and easily by 20° to the front and 2° backwards.Eyes gentle for more comfortable viewing experienceEye Saver Mode: In contrast to other colors, which are emitted through the screen, the wavelengths of blue light has a stronger stimulating effect on the retina, the eyes tired. The Eye saver mode optimizes your viewing experience through intelligent reduce at the push of a button the blue light emission. Flicker-free function: the flicker-free feature reduces screen flicker for a more pleasant viewing experience.This text is machine translated. More Info: - EAN: 8806086929493