United Airlines – Business Review
Last month, I began my analysis of the airline industry with Southwest Airlines (NYSE: LUV[1]), and I am continuing it this week with a global powerhouse: United Airlines (NYSE: UAL[2]). United Airlines is big, boasting nearly £17 billion more in revenue than Southwest, and close to twice it's total assets. With all that size comes managerial and growth challenges, especially in the realm of quality control, cost control, and revenue management.
United Airlines has seen problems increasing revenue since 2012, with 2016 revenues sitting about £600 million below revenues in 2012, and TTM revenues as of June 30, 2017 essentially at par with 2012, despite almost 100 million more U.S. airline passengers in 2016.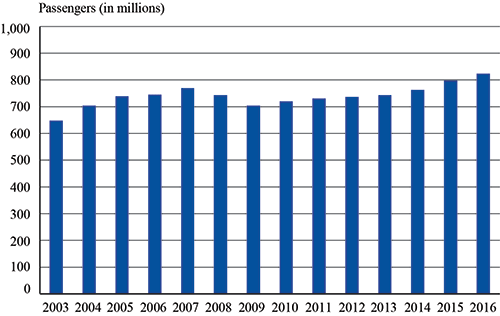 This suggests United Airlines is losing market share, attempting to undercut on price, or both, and with lower than average profitability margins, the bottom line has suffered.
United does not return cash to its shareholders through the use of dividends, but the Company does partake in huge share repurchase programs.
Current levels of share repurchasing appear to be unsustainable, as the Company spent 115% of net income on repurchases in 2016. While I personally am in support of returning chunks of cash to shareholders, excessive dividends or repurchases can signify a lack of positive value building initiatives within the firm, and long-term value creation can suffer as a result of shirking investment. The Company's tangible book value per share is £2.40, offering no further cushion in terms of real assets less debt and intangibles.
Fuel costs currently rest at a comfortable low point, from which projections tend to show expectations of a stable increase over the long run.
Despite fuel having little room to fall on price, and high possible increases, the Company has discontinued its price hedging policy indefinitely until management believes it necessary to hedge fuel price risk. Any one dollar change in the price of a barrel of crude oil changes the Company's annual fuel expense by £95 million, or 1.2% of the Company's cost of sales excluding depreciation.
United's balance sheet shows £16 billion in both long-term debt and retirement-related liabilities, but the Company also has an additional £16.8 billion in off balance sheet obligations. This increases the Company's weight of debt to 61.2% of total capital.
My calculations show a 5.9% return on invested capital, very close to the 5.1% discount rate (which I believe to be inadequate based on United's long-run volatility in earnings). This means the Company is likely destroying value should the risk-representative discount rate be higher than 5.9%.
United contracts out a portion of its flights to regional airlines, in the form of CPAs (Capacity Purchase Agreements) and is also a member of StarAlliance, a global integrated airline network. These agreements and alliances potentially open the door for problems with quality control, as regional airlines fly United customers from hubs to destinations, and can put pressure on Management's ability to make autonomous decisions free of cooperative guidelines.
Business Drivers:

Price of oil and labor costs heavily influence profit margins.
Demand markets: leisure travel, business travel, freight transportation
Majority of traffic is one-stop since the Company uses highly-frequented destinations as its hubs.
High switching costs through loyalty point systems drive repeat customers.

The Company utilizes its MileagePlus program by building customer loyalty through the use of awards and benefits systems. United does not offer a clear-cut multi-tier pricing strategy.
Key Valuation Metrics vs. Industry Averages:

Upon first look, United's current P/E ratio of 8.8x appears to sit in bargain territory, especially when compared to the industry average of 11.9x.
The Company's less than impressive profitability metrics tell the story – gross profit margin of 26.8% compared to 48.2% industry average, operating profit margin of 11.5% compared to 14.3% industry average, and net profit margin of 6.6% compared to 8.5% industry average. The Company boasts a large portion of global market share, but appears to be bogged down by debt and internal inefficiencies. A lower than average P/E ratio is reconciled by high volatility in earnings, and expected declines in revenue.
Glassdoor Metrics (Insider Sentiment):

Glassdoor reviews rate United Airlines a 3.9 out of 5, with 77% willing to recommend this employer to a friend, and 94% of reviewers approving of the CEO.
These ratings are a positive signal of employee morale and quality of work within the Company. The CEO, Oscar Munoz, was the 18th highest rated CEO of 2017 on Glassdoor. Ratings have steadily trended upward over the last year, and 69% of reviewers project a positive business outlook.
Financials:

From FY 2014 to TTM June 30, 2017, the Company has decreased revenue at a compound annual growth rate of 1.1%, but has increased net income at 22%.
The Company's revenue decreases are relatively concerning albeit small over a three and a half year period, while net income growth has been large yet volatile over a longer period. United had a net loss of £723 million as recent as 2012. The Company's profitability metrics are average to below average, which is discouraging considering its size and global reach.
United has a meager ROA of 5.4%, and a tangible book value per share of £2.40.
Valuation:

A five-year discounted cash flow analysis yields an equity value per share of £73.53, and a one-year price target of £80.64. I used a discount rate of 5.1%, with a slight revenue decline through the forward 12 months, and slight revenue increases through the remaining period (ranging from 1-2%). This analysis contradicts the one-year price target of £61.91-68.76 based on a capitalization rate of 9x to 10x and projected FY1 EPS of £6.88.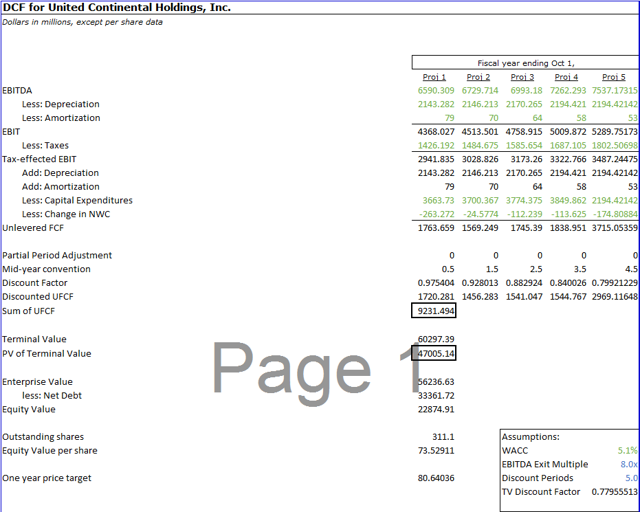 The discounted-cash flow analysis yields a much higher value due to large depreciation add backs through the five-year projection, making the multiple of forward year earnings method more relevant for this scenario.
Depreciation represents a large expense that is paid for by the shareholders. United Airlines appears to be overpriced in this scenario, with huge obligations remaining to debtors and lessors before returning value to the shareholders. Even a modest increase of the WACC to 6.5% brings the equity value per share down to £62.84, showing this valuations sensitivity to discount rate adjustments.
United Airlines stagnant revenue growth coupled with high debt obligations create the image of a bloated global powerhouse that is too big to fail, and operating at less than optimal levels as a result.
Net income has been turbulent since 2012, helped along by tax credits carried forward from Net Operating Losses. Lack of stability in the Company's performance and capital structure, along with a pessimistic outlook for value building investments warrant a Sell rating on United Airlines. The Company could be attractive and offer promise at lower price levels due to its size, brand and high employee morale, but at these levels it appears overpriced.
You can view the full equity research report by clicking here.[3]
Disclosure: I/we have no positions in any stocks mentioned, and no plans to initiate any positions within the next 72 hours.
I wrote this article myself, and it expresses my own opinions.
I am not receiving compensation for it (other than from Seeking Alpha).
I have no business relationship with any company whose stock is mentioned in this article.
References

^ You can view the full equity research report by clicking here. (seekingalpha.com)