Queer City by Peter Ackroyd review – a celebration of gay London
Mardi Gras pride march in London. Photograph: Butterton Andy Butterton/PA When did we become queers again?
The love that dare not speak its name has not just one name, but a vast number, many of them listed in Peter Ackroyd's vivacious new book: ingle, bugger, catamite, chicken hawk, fribble, endorser, fairy, shirt-lifter, bone-smoker, fudge-packer, butt piler, pillow biter. The name du jour, it seems, is queer. Better than homo, no doubt, or poof.
But surely the Johnny-come-lately appellation gay – charming, funny, colourful – is preferable, if not always strictly true? Yet women feel excluded by the word. Perhaps after all the faux-scientific "homosexual" (coined by a Hungarian legislator in the 19th century) is, given the bewilderingly wide range of same-sex possibilities, the most accurate, as simply denoting desire for someone of one's own gender, but implying no solidarity, no similarity of need, simply the condition of not following the majority pattern of desire for the opposite sex.
This is all academic: queer we are, and the half-century of legality since 1967 makes this Queer Year.
It was inevitable that London's great chronicler, who happens himself to be queer, would give us the lowdown on homosex in the city. His book is predictably droll, provocative and crammed to bursting with startling facts and improbable names (Constable Obert Pert and the trinket vendor Samuel Drybutter, to name but two of many outrageous monikers that dance across the pages). It is also strangely impersonal.
Was ever an author so present in, and yet so absent from, his own work? It is always unmistakably Ackroyd, just personally uninvolved. He peeps through his own sprightly prose just once: "It has been suggested that in the 1960s, London became in many respects a sexually liberated space," he says. "It did not seem like that at the time." A tiny glimpse of the author, a glum figure on the edges of the phantasmagorian carnival he conjures up in his gay – sorry, queer – journey through the capital across the centuries.
The early parts of Ackroyd's narrative yield slim pickings in terms of London, tending to give a more general account of the history of homosexuality in Britain. The capital only properly enters the story in the pages of the 12th-century chronicler Richard of Devizes, who states that every quarter of the city abounded with great obscenities, perpetrated by a whole array of perverts, including glabriones (smooth-skinned, pretty boys), pusiones (hustlers), molles (effeminates) and masculari (men lovers). All very Julian and Sandy[1].
By 1339, there were distinctly identifiable districts harbouring male brothels – Holborn, the Fleet, Chancery Lane, Shoe Lane – despite the dangers of discovery. In fact, sodomy was something of a catch-all phrase with which to tar an enemy: Lollards denounced the church for it, but were in turn accused of it themselves. Sodomy was "a prive synne" – "secrecy was of the essence," Ackroyd says, "just as a heretic might skulk in the shadows".
The Knights Templar were regularly accused of buggery: in Paris they were burned for it, but not in London, despite the official penalty being death by fire; elsewhere, it is recorded that the punishment for sodomy was to be buried alive. But there are no records either of burnings or premature burials in the city in the 14th century. Even when a transvestite prostitute by the name of John Rykener, known as Eleanor, was arrested in flagrante, and found to have had sex with monks, friars, priests – and nuns – no charges were pressed. "He was libidinous, but was he homosexual, heterosexual, bisexual, or all of them at once?" Ackroyd asks.
He answers himself: sexuality was "a fluid, infinitely malleable condition. It permeated the streets of London like the smell of pies and sweetmeats." Desire is irrepressible. Denied one outlet, it will find another.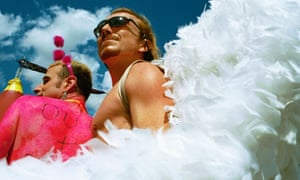 Mardi Gras and gay pride in Finsbury Park, London.
Photograph: Andy Hall for the Observer
As, perhaps, will love. Ackroyd cites the famous tomb in the Arap mosque of Istanbul in which two English crusaders are buried, side by side, their helmets seemingly kissing, their shields overlapping. In England, Henry VIII introduced a Buggery Act, aimed at friars: "Catholicism was now 'the other', the shadowland, the source of treason, sin, crime and sickness … the desire of the king for the wealth of the church had turned a sin into a crime." But despite widespread acknowledgement of its existence, prosecutions for sodomy were rare.
It had to be witnessed, and penetration had to be proved: emission alone was no crime. Nonetheless, in 1540, Lord Hungerford was publicly executed for having sex with male servants; and in 1608, Humphrey Stafford was hanged after being prosecuted for male rape: the law made an example of toffs, then. There was general bafflement as to what homosexuality was, and what caused it.
According to Edward Coke, it derived from "pride, excess of diet, idleness and contempt for the poor". The theatre, of course, with its boy players and its association with degeneracy, was rife with it, and was thought to set a dangerous example: "These goodly pageants being done," thundered Philip Stubbes in School of Abuse, "every mate sorts to his mate, everyone brings another homeward of their way very friendly, and in their secret conclaves (covertly) they play the sodomites or worse." But the monarch was implicated in these same activities. James I made no bones about his devotion to his favourites: referring to his adored Duke of Buckingham, he told the privy council: "Jesus had his John, I have my George." He died holding his George's head.
So far so rarefied. It is with the 17th century that Ackroyd really embraces his kingdom, delineating in astonishing detail the topography of queer desire across the city: London's libido was untrammelled, and opportunities for its expression limitless. There were gay bars all over the city, he says: the Fountain Tavern off the Strand, Dick's Coffee House in Aldersgate, the Pheasant in Fuller's Rents.
Here buggerantoes could be spotted, "preternatural fornicators who would ogle a handsome young man with as much lust as a true-bred English whoremaster would gaze upon a beautiful woman". Male tarts abounded: Little Taffy, Dick Steckwel, Ned Brooks, Ralph Asbington, AKA Shitternarse. There was a male brothel in the Mulberry Garden[2], on the site of present-day Buckingham Palace, prefiguring the shenanigans of later generations in St James's Park.
Nowhere was sacred: the aisles of St Paul's Cathedral[3] as well as St Paul's churchyard were cruising grounds, and outrageously effeminate men prowled the city on the hunt for trade. You could spot them a mile off: "If the middle finger was advanced, it was a sign of effeminacy. The hand turned up, in the course of conversation, was another … if you 'wagged' your hand as you walked, it was a sign of sodomitical shamelessness." The Society for the Reformation of Manners, founded in 1691 in the reign of William and Mary, could not entirely check the unbridled expression of the desire of men for men and, as often as not, the desire of men for boys.
This is partly because a large number of the society's members were themselves gay.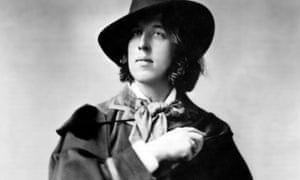 Oscar Wilde in 1882. Photograph: Apic/Getty Images
In due course, however, "public opinion in England seems to have turned against queers". The late 18th and early 19th centuries saw the strict division of masculine and feminine.
Anything that modified those roles was abominable, threatening. Executions for sodomy peaked after the turn of the century; 80 men were hanged for it over a brief period of 30 years. Public parks were locked at twilight.
Offenders in the pillory were heaped with mud, emblematic of the association of homosexuality with excrement. But still the brothels – the "sinks" – flourished. After a police raid in Vere Street in 1810, the arrested men were very nearly torn to pieces by the crowd.
The upper classes escaped to the continent where there was no law against sodomy. It has to be remarked that the queers in question do not come out of this especially well: flogging children, murdering servants, seemingly rampant and insatiable. The depressing history of homosexuality in the late 19th century is, thanks to Oscar Wilde[4], famous, but, as Ackroyd says, it is arguable that in the first half of the 20th century "gays of both sexes were subject to a level of prejudice and intolerance not seen before in western history; entrapment, imprisonment and sudden raids became familiar characteristics of London life".
Which is where we came in.
Ackroyd's rapid survey of the changes in his – my – lifetime does not do full justice to the extraordinary transformation of the queer experience, the sudden emergence from the shadows of oppression when gay men (more than gay women) cottoned on to the idea that if we only came out, the world was our oyster – we had nothing to lose, so to speak, but our chains. The period from the early 70s to the catastrophe of Aids[5] presented a richer, fuller, more reckless scene than Ackroyd imagines, or remembers. The eruption of drag pubs in the suburbs, the vitality, the fantasy in clothing and makeup, as people who had been invisible strutted their stuff.
The centre of town, meanwhile, became positively Babylonian. There, in almost plain view of the straight population, round the clock, was fucking on the rooftops, fucking in the basements, fucking in the toilets. And then, as Ackroyd says, the music stopped.
Here he writes with steely clarity: he knows whereof he speaks, though he never mentions his personal experience of nursing his partner with Aids through to the terrible end. He acknowledges the "sense of communal identity" that emerged out of the general confusion and horror of this biblical visitation, and then slow progress towards a new-found normality. "With the opportunities for marriage beckoning, the need for an aggressive counterculture had dwindled … queerness, with all its panache and ferocity, is in elegant retreat." That's part of it, no doubt, but the decline of the queer community is as much to do with dating apps such as Grindr[6] obviating the necessity for meeting places, while the abandonment to chemsex is the obverse of the matrimonial coin. "This book is a celebration," Ackroyd concludes, "as well as a history, of the continual and various human world maintained, in its diversity despite persecution, condemnation and affliction.
It represents the ultimate triumph of London." As always, he takes no sides, makes no judgments. But it is difficult to celebrate much of what is recorded in the book – either the punishment meted out by the law to transgressors, or the equally savage brutality to which many of the objects of queer desire were subjected. At one point he quotes Italo Calvino[7]: "Cities, like dreams, are made up of desires and fears, even if the thread of their discourse is secret, their rules are absurd, their perspective deceitful and everything conceals something else." Pure Ackroyd.
As he says: "The city was a phantasmagoria or a dreamscape on which the queer man or woman could project the most illicit longings." o Simon Callow's Being Wagner is published by William Collins. Queer City: Gay London from the Romans to the Present Day by Peter Ackroyd (Chatto & Windus, ?16.99). To order a copy for ?12.74, go to bookshop.theguardian.com[8] or call 0330 333 6846.
Free UK p&p over ?10, online orders only.
Phone orders min. p&p of ?1.99.
References