Nest Cam IQ – TechRadar
Trending
Hands on: Nest Cam IQ review

A premium priced camera with the smarts to match

Not yet rated By Jon Porter[7] CCTV[8]
SharesWhat is a hands on review?[9]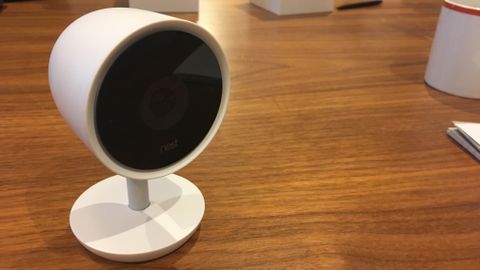 Our Early Verdict

With the camera's high price and the all-but-essential Nest Aware cloud subscription service, the Nest Cam IQ is a premium offering. But for that price you get a host of intelligent visual and audio recognition features that should ensure that it only notifies you when it absolutely needs to.
For

Facial recognition
Impressive levels of zoom
High image quality
Against

Expensive Nest Aware subscription
No 4K camera feed
High price of hardware
Since acquiring Dropcam back in 2014, Google's Nest – best known for its smart thermostats – has put out a steady trickle of home security cameras. First came a 1080p indoor security camera, the Nest Cam Indoor, which was followed a year later by the Nest Cam Outdoor[10].
The Nest Cam IQ is the newest camera from the company, and it contains a host of new and upgraded features over the original Nest Cam Indoor. It's still a camera meant for indoor-use – there's none of the weatherproofing present on the previous outdoor version of the camera – but the camera comes equipped with a much higher resolution camera sensor, which allows it to be much more intelligent with how it notifies you about what's going on in your house.
Design

The Nest Cam IQ borrows heavily from the design aesthetic of the previous Nest Cam Outdoor with a clean white chassis attached to a surprisingly heavy base. The camera itself has a 4K/HDR sensor (more on this later), which has a field of view that's 130-degrees wide and it's also got 940nm infrared LEDs for nighttime and low-light recording.
There's a light ring around the front of the camera which can illuminate different colors depending on what state the camera is in. Blue will indicate two-way talking (a feature to be made available in a forthcoming firmware update – at launch it will be one-way only), and green will indicate the camera is currently watching the room. The camera's audio (used for audio recognition of intruders) has also improved.
The IQ is equipped with three microphones to attempt to cancel out as much background noise as possible. Nest is also claiming that the camera's speaker is seven times more powerful than previous models, which should please anyone who's used a Nest camera to mess with family members or pets in the past. The base is heavy and wide, which should help the camera remain nice and steady even when you're rotating it through it's broad range of motion (180-degrees horizontally and 160 vertically).
We also like that the SM© USB power socket has moved from the camera to the base, which should mean you can easily reorientate the camera without the cabling get in the way.
A 4K camera without the 4K

When we first heard rumors of the new camera last week[11], the most exciting feature appeared to be its upgraded 4K capabilities, but these aren't quite what they seem. You see, while the camera is equipped with a 4K camera sensor, this doesn't translate to a 4K security feed. According to Nest, such functionality would place an enormous strain on the user's bandwidth, and with the likes of Netflix advising an internet connection of 25mbps for Ultra HD video it's easy to understand why, especially when the Nest camera will be relying on typically much slower upload speeds to get its footage to the cloud.
Instead the feed that's backed up to the cloud and the feed you're able to see on your phone is limited to a much more reasonable 1080p. But this doesn't mean the 4K sensor is completely going to waste.
For starters, the additional detail will improve the quality of 1080p feeds. Secondly however, the increased sensor resolution means that the camera is capable of zooming in 12x digitally, without any major loss in image quality. The camera is even intelligent enough to zoom in automatically on people thanks to its new 'supersight' functionality, although thankfully it continues to record the entire scene even as it shows a zoomed-in view of part of the image.
I don't remember names but I remember faces

This means that it's now much easier to manually make out the faces of anyone who might gain entry to your home, even if they're not right next to the camera.
Beyond manual recognition, the new Nest camera is also able to perform automatic facial recognition. Simply tag a couple of photos of a person, and the camera will be able to automatically recognise them in future. You can set up notifications such that the camera notifies you only when it sees people that it doesn't recognise, meaning that your phone won't notify you just because someone in your household has headed home early from work.
The camera is also clever enough to tell the difference between a person and an object, meaning that you won't be notified by a pet or robot vacuum cleaner if it creates motion in the camera's field of view (the same is true of the microphone, which can tell the difference between a dog barking and a human speaking). Unfortunately this is about as clever as it gets.
You won't be able to set notifications on a per person basis for example, meaning that you can't avoid notifications about your partner if you want to know if your children are going somewhere they shouldn't be.
Nest Aware, still far too mandatory

The camera makes use of the Nest Aware cloud backup service to keep a rolling log of the last 10 days of footage. You get 10 days free with the camera, but each subsequent month will cost you £10/?8 (£100/?80 for a year). This costly Nest Aware subscription is pretty much essential if you want to make full use of the camera.
Although facial recognition works without it, you'll be limited to still snapshots which the camera will take of your home when it senses motion or sound. You'll be able to view live video with or without a Nest Aware subscription, but unless you want to constantly monitor the Nest app, then you're going to need a subscription to see video. Make sure you factor the cost of this into your budgeting.
Early verdict

At £299 (?299), the Nest Cam IQ is clearly targeting the premium end of the market with a set of features that should be intelligent enough to not constantly pester you with notifications.
The 4K compromise is well-thought out and appears to allow the benefits of the increased resolution without crippling your home's Wi-Fi by constantly transmitting Ultra HD footage, and we appreciate the upgrades made to the audio side of the security equation. This is a security camera with all the bells and whistles, and now the question is whether this functionality will all seamlessly kick in when you need it most. We look forward to checking out the final version of the hardware when it's available at the end of June.
What is a hands on review?

'Hands on reviews' are a journalist's first impressions of a piece of kit based on spending some time with it.
It may be just a few moments, or a few hours. The important thing is we have been able to play with it ourselves and can give you some sense of what it's like to use, even if it's only an embryonic view. For more information, see TechRadar's Reviews Guarantee[13].
Tech deals, prizes and latest news
Get the best tech deals, reviews, product advice, competitions, unmissable tech news and more!
[embedded content]
No spam, we promise.
You can unsubscribe at any time and we'll never share your details without your permission.
Most Popular
Most Shared
References