Toy Review: The Tantus Sam – Emmeline Peaches Reviews
While Tantus1 has been making some fantastic realistic silicone sex toys in the most recent months they was, for a while, something missing. A certain heft. A ferocity. A formidable contender. That s right; for a while, the realistic line lacked a girthy representative. Well not anymore. I hope size queens are excited because Tantus2 recently unveiled the Tantus Sam3 and, while it may not be the biggest toy in the industry, it is still a monster in its own right. A huge hunk of silicone just waiting for the right person to come around and conquer it. As someone with a 2 inch diameter limit I was somewhat unsure as to whether or not that person could ever be me. The Tantus Sam4 seemed, at the same time, insurmountable and irresistible. But perhaps that was the very reason that I accepted it for review; I do, after all, love a challenge.
The Tantus Sam5 proved to be just that but it was also so much more. A demanding toy, the Tantus Sam6 commands your attention and, in turn, earns your respect with its girthy, textured form. It s no stretch of the imagination to imagine this toy being admired by many.
The Tantus Sam
The Tantus Sam7 is one of the newest releases from Tantus8 and ties in to a few of its lines. The first (most obvious) line is the realistic one. Much like the Alan9, Gary10 and Uncut11, the Sam12 is made to look incredibly realistic and this has been successfully achieved. Right down to the pores, the detailing on the Sam13 is incredibly thorough and amazingly realistic in appearance. This level of detail alone is an admirable aspect of the toy which makes it appealing to those looking for a realistic toy and a good option for harnessed play. However, unlike some of its slimmer counterparts, the Sam14 is supposed to look like an incredibly large, almost overly erect shaft and, as such, it has some additional features. Prominent veins run across the shaft of the Tantus Sam15, adding more overt texture to the toy s surface. Veins aren t necessarily a turn on for me visually but, I have to admit, they do have their perks in use and Tantus16 seems to understand this very well.
The Tantus Sam is a prime hunk o silicone.
The Sam17 is also part of the Tantus O2 Dual Density18 line, meaning that it has a firm silicone core covered in a softer silicone surface. This allows most Dual Density19 toys a certain plush aspect which gives them a reasonable amount of bend and squish. This is true of the Sam20 to some extent but compared to other O2 Realistic Dual Density21 toys the Sam22 still maintains a certain degree of firmness. This doesn t necessarily make the Sam23 feel rigid. Instead I d say that it makes it feel suitably thick; relentlessly chunky but still able to provide some leeway for insertion. This is particularly valuable because the Tantus Sam24 comes in at a diameter of 1.8 inches. Length-wise, the Sam25 also comes in at a reasonable 7.3 inches of insertable length. It s hard to encapsulate these dimensions until you actually see the Sam26 in person and they didn t fully register with me either. That was until it arrived and I was suddenly daunted by my life choices. In those moments the fact that the Sam27 was Dual Density28 made me feel much more assured, even if it is still a firmer dildo.
The silicone used for all Tantus29 toys is Ultra-Premium silicone, making them phthalate-free, non-porous and completely body safe. This silicone (being so realistic and having a matte surface) does feel wonderfully grabby during use but it also grabs up dust and hair with great enthusiasm and requires extra cleaning because of the extra detail. Thankfully this toy is boilable and dishwasher safe. Soap, water and determination also work too. Lastly the Tantus Sam30 falls into the Vibrator line of Tantus31 toys. This means that there is a hollowed out area in the base where users can put a bullet vibrator (and, yes, it can fit the Tango32). Unfortunately, as you can imagine, so much silicone struggles to translate the full strength of a bullet vibrator so vibrations through the Sam33 are often considerably muted. Still I often wonder if the Sam34 even needs vibrations to be an exceptional dildo. It does so well on its own. That being said another benefit of the Sam s35 hollowed out section is that it can accommodate a suction cup, which (along with a Tantus36 bullet) is provided with the toy. This basically means that when you buy the Sam37 you are presented with four different ways to use the Sam38: as a straight up dildo, as a vibrating dildo, with a suction cup or with a harness. The fact that these options are possible affords the Sam39 an admirable amount of versatility which I definitely appreciate. It also makes its £139.00 price tag very reasonable, as there are multiple ways to use and enjoy the Sam40.
Personally I preferred to use the Sam41 as a straight up dildo and the results were incredibly memorable. Not being a girth-lover by nature, I was sure I would need to warm up to the Sam42 in order to even take this toy. But, to my surprise and pleasure, I was actually able to insert part of the Sam43 without preparation. Since that first attempt I have always been able to use the Sam44 without a warm-up (although sometimes I prefer one). In short this toy will be girthy for most but it also do-able, or will be if you can take similar toys to myself.
This dildo means business.
Whenever I use the Sam45 the prevalent sensation is (unsurprisingly) girth. It s that familiar sensation of being stretched; one that isn t uncomfortable but isn t exactly gentle either. The Tantus Sam46 also has the added element of its surface and texture. In use the Sam47 grabs the vaginal walls and my attention in equal measure, bringing me completely into my body and allowing me to revel in the sense of fullness merged and captivating texture. Large toys prompt a large reaction, and my vagina is often willing to respond to this with an orgasm as monumental as the toy itself. Because the Sam48 is larger than most of my toys (and has an undeniable grabby appeal to it) each muscle contraction brought about by an orgasm with the Sam49 feels substantial; like its fighting to occur and made all the stronger for it. In short this toy puts my kegels through one hell of a workout but the hot and bothered aftermath is much more pleasant than most gym-based activities. If I were to fault the Tantus Sam50 it would be in the cleaning department; as easy as silicone toys are to clean the Tantus Sam51 does require that extra bit of effort and I know for a fact that I ve sometimes missed the mark and have had to re-clean my Sam52 before use. As irritating as this is, though, it s not a deal-breaker; it s just an expected part of the Sam s53 detailed surface.
Preference will also play a massive part in your personal enjoyment of the Sam54. Is it too chunky? Too slim? Too grabby? Not quite textured enough? These are all questions that you ll be able to answer much better than I, because you know your body better than anyone.
Final Thoughts
For me the Sam55 requires a certain mind-set to use. It s one that I m not always in but when I am then nothing else compares. The large-but-inviting dimensions of the Sam56 work well to provide a filling sensation without feeling like a painful intrusion or a compromise. It is exactly the right size, exactly the right firmness and exactly the right fit for whatever girthy cravings I have and this could very well be the case for you too. For those who regularly take dildos of a similar size (or larger) the engaging surface and acceptable coronal head of the Sam57 may still be broadly appealing, but the girth factor may not be quite as substantial. But if, like me, you tend to take smaller toys but do have the occasional craving for a colossal cock then the Sam58 is a perfect candidate.
Recommend to:
Size Queens. People moving to larger toys.
People who like texture & dual density.
Do Not Recommend to:
People who prefer much larger/smaller toys. People who prefer glossy silicone. People who prefer single density silicone.
The Tantus Sam59 was kindly provided to me by Tantus60 in exchange for an honest review. Why not show your approval by checking their site out here or by making your purchases via the affiliate links within this post? Right now you can even get 20% off Dual Density toys61 with the code SPRUNG62. What are you waiting for!?
Like this:
Like Loading…
References
Flip NotationDraw, Write, inspireEnjoy the pleasant feeling, true to the tradition to write. But in the digital format: with a variety of colors, styles and widths. Up to 4 people can simultaneously with virtually any object writing.Flip CaptureFor a good cooperationThe high connectivity of Samsung Flip, you and your team notes in a large number of files share and create, in optimum visual quality.Flip NavigationNavigate intuitivelyThe intuitive, user-friendly menu from Samsung Flip simplifies navigation and reduces the amount of time you need, in order to access the control elements or content in their entirety. Moderators can also individual content pages in the preview show and make changes directly on the screen.Navigation with flipScrolling, simplyYou and your team colleagues do not have to go through endless stack of paper to the discussion point. Now you can seamlessly in up to 20 clearly structured digital flip pages browse and search.Flip Protection Protect Your IdeasTranscripts and tedious manual protocols were yesterday: at the end of each meetings saves the Samsung Flip all content in the device, where you can also be secured by a PIN. Thus, only authorized users to the meeting files. Meeting participants, content can be simply via a USB-Stick download via E-Mail and share or print it out.SecureSimply unlockSimilar to your smartphone or tablet extends the flip display through a dedicated pass code access for selected users. In order to access content, simply enter the code and start with the review or cooperation.Flip-ConnectionEnjoy versatile connectivityThe connectivity of Samsung Flip enables a fully synchronized, user-friendly cooperation. Align your personal devices on the central screen to interactive content to make, Record and share.Flip-ConnectionEnjoy versatile connectivityThe connectivity of Samsung Flip enables a fully synchronized, user-friendly cooperation. Align your personal devices on the central screen to interactive content to make, Record and share.Flip-ConnectionEnjoy versatile connectivityThe connectivity of Samsung Flip enables a fully synchronized, user-friendly cooperation. Align your personal devices on the central screen to interactive content to make, Record and share.Flip-ConnectionEnjoy versatile connectivityThe connectivity of Samsung Flip enables a fully synchronized, user-friendly cooperation. Align your personal devices on the central screen to interactive content to make, Record and share.Flip SynchronizationSynchronize, control, displayThe Touch-Out-control functionality enables users, personal devices with the flip to synchronize them in real-time to view and control. Changes made on the central screen are automatically to the personal device of the user and vice versa, in order to secure an efficient, coordinated display.Flip PresentationShow your workYou can adjust various space conditions without having to compromise on comfort. With a versatile pivot mode and an ergonomic stand, each flip-display can be configured in such a way that it is in the high or landscape format can be aligned to your work requirements.Flip DistributionEffortless parts of content after the meetingEach meeting participants know how frustrating it is, hand-written summaries to collect and send them. Samsung Flip relieves you in this annoying process. Save notes from meetings and important content in the central storage of the display and share them with your colleagues via mobile and digital channels.Flip touchNavigate via touch-sensitive communicationInGlass™ technology provides real-time fe More Info: - EAN: 8801643047481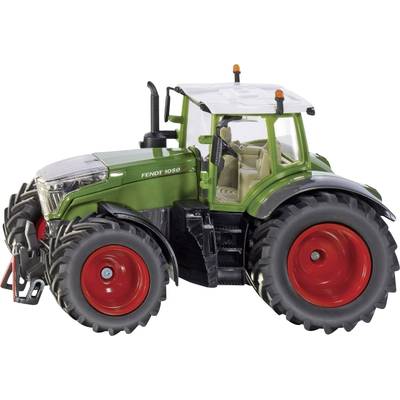 The new Fendt 1050 Vario is Fendt as German masterpiece. Now pulls this in the toy format is also in the child's room. The huge proportions of the original machine meets the made of metal and plastic parts existing SIKU model perfectly. The new look of the engine hood with the grim view is also worked out how the new rear tires in a new dimension. The steerable front axle has a pendulum function. The assertive hood is to open and the cab can be removed. At front and rear are SIKU-standard couplings are used.This text is machine translated. More Info: - EAN: 4006874032877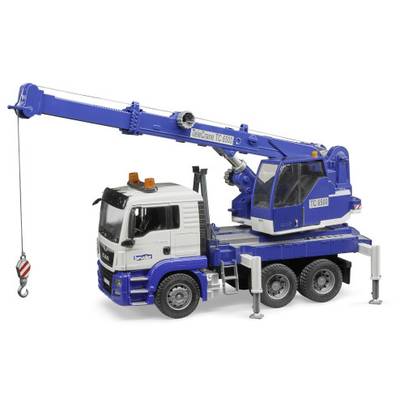 The MAN TGS is the perfect all-rounder for the construction site, long-distance traffic and Nahverteilung. A robust design, with strong drawing engines equipped with above-average payload is this truck, the prototype for the much described all-rounder that a lot of innovations on board. The brothers model of the MAN TGS CRANE TRUCK is the all-time helper on any construction site in the children's room. Where loads lifted and must be relocated, this model in scale 1:16. The 2-color guide house has doors for opening and offers at any bworld figure a modern workplace. With its functional cable reel with integrated overload protection, this is also possible without any problem with this toy. Likewise, inclination and extension of the crane children easily adjusted. For stability provide the 4 support feet to pull out and shut down the same functionality for small crane operator in the cab. This is fully glazed and has a sliding door. The very detailed driver house has already the Light & Sound modules installed."This text is machine translated. More Info: - EAN: 4001702037703
Long ago a mighty robot warrior Voltron was created to protect the galaxy from evil Now five young heroes must master the power of Voltron Lions to defeat the Galra empire and restore peace!Recreate your own scenes with this ultimate mega deluxe Voltron figure! More Info: - EAN: 8056379050650
It&39;s the brand new Series &39;Bug Battle&39; from The Grosser Gang and things are about to get messy! With the Bugs threatening everything grimy gooey and gross our favourite festering friends must join forces to battle against the bugs! Collect and build your foul force and take on the baddies It's icky! It's sticky! It's…Bug Battle! Way more gross than most this pack contains 10 Groceries with two hidden Groceries Who will you find inside? 10 Groceries found inside! Keep and store your Groceries in the army crates provided Includes a crossbow to launch your groceries 150 new characters to collect swap and squish!Suitable for ages 5 and above Contents10 Grosser Gang figures2 Army Crates1 crossbow1 collectors guide More Info: - EAN: 8056379047704